Pediatric Blood Disorders With Central Nervous System Complications

Abstract views: 55 /

PDF downloads: 39
Keywords:
Central nervous system complications, blood disorders, children, pediatry
Abstract
Pediatric Hematology Oncology is a broad and complex area that encompasses perturbations of the several-formed elements of the blood and their precursors in the bone marrow, as well as the coagulation-fibrinolytic systems in the plasma, the reticuloendothelial system, and malignancies of the blood and solid tissues and organs. The most common non-malignant blood disorders in adolescents include the various forms of cytopenias, anemias, bleeding and clotting disorders, and hemoglobinopathies. Iron deficiency is the most prevalent nutritional deficiency affecting children and adolescents worldwide. But, anemia occurs frequently in children with cancer. Iron deficiency anaemia is commonly associated with thrombocytosis. Thrombocytopenia, or low platelets, can occur as an isolated finding or in conjunction with a multitude of underlying clinical conditions. Venous thromboembolism result in significant morbidity and mortality in children with cancer. Alpha-thalassemia major is the most common genetic variant of transfusion-dependent thalassaemia seen in the Indian subcontinent, the Mediterranean basin, Southeast Asia and China. Bleeding events still predominate as the diagnostic trigger in children, however, the sites of bleeding vary with age. Bone marrow failure is a rare but life-threatening disorder that usually manifests as (pan)cytopenia. Central nervous system tumors are the most common cancer diagnosed in children after leukemia, accounting for 20% of all pediatric malignancies. Fanconi anemia is an autosomal recessive disease characterized by developmental anomalies, bone marrow failure, cellular sensitivity to DNA cross-linking agents, and increased incidence of both hematologic and solid tumors. This narrative review focuses on the most suggestive symptoms of hematologic disorders with central nervous system complications in childhood.
References
Alabbas, F., Weitzman, S., Grant, R., Bouffet, E., Malkin, D., Abla, O., Dror, Y., 2017. Underlying undiagnosed inherited marrow failure syndromes among children with cancer. Pediatric Blood & Cancer, 64(2): 302-305.
Ammann, R.A., Bodmer, N., Hirt, A., Niggli, F.K., Nadal, D., Simon, A., Aebi, C., 2010. Predicting adverse events in children with fever and chemotherapy-induced neutropenia: the prospective multicenter SPOG 2003 FN study. Journal of clinical oncology, 28(12): 2008-2014.
Babacan, A., 2021a. Çocukluk çağında karşılaşılan sinir sistemi yüksek dereceli glial tümörleri ve tedavisi. MAS Journal of Applied Sciences, 6(4): 1084-1090.
Babacan, A., 2021b. Çocuklarda demir eksikliği anemisi. MAS Journal of Applied Sciences, 6(4): 1077-1083.
Babacan, A., 2021c. Thrombocytopenia in children towards the multilevel approach in medical sciences, (1. Baskı) Iksad Publishing House, 84, Ankara.
Babacan, A., 2022a. Pediatric central nervous system tumors: a. setting a sail for a journey to improved and effective medical approaches, (1. Baskı) Iksad Publishing House, 3, Ankara.
Babacan, A., 2022b. Inherited and acquired bone marrow failures and current treatments. setting a sail for a journey to improved and effective medical approaches, Iksad Publishing House, 21, Ankara.
Babacan, A., Özçelik, A.A., Serdaroğlu, A., Bideci, A., Arhan, E., Gücüyener, K., 2009. Valproat ve karbamazepin kullanan prepubertal epileptik çocuklarda serum IGF-I ve IGFBP-3 düzeyleri. Türkiye Klinikleri Journal of Pediatrics, 18(1):1-6.
Babacan, A., Şenol, F.F., 2023. Thrombocytosis in children. Revista da Associação Médica Brasileira, 69: e20230020.
Babacan, A., Şenol, F.F., Bahçeci, İ., 2022c. Yenidoğan sarılığında G6PD eksikliği. Van Tıp Dergisi, 29(4): 416-420.
Biss, T.T., Blanchette, V.S., Clark, D.S., Bowman, M., Wakefield, C. D., Silva, M., Rand, M.L., 2010. Quantitation of bleeding symptoms in children with von Willebrand disease: use of a standardized pediatric bleeding questionnaire. Journal of Thrombosis and Haemostasis, 8(5): 950-956.
Bordbar, M., Karimi, M., Shakibazad, N., 2018. Thrombosis in pediatric malignancy: a review and future perspectives with focus on management. Blood Coagulation & Fibrinolysis, 29(7): 596-601.
Chee, W.Y.Y., Chung, H.Y., Wong, R.M., Wong, K.K., 2018. Jaundice in infants and children: causes, diagnosis and management. Hong Kong Medical Journal. 24(3):285-292.
Chiarello, P., Magnolia, M., Rubino, M., Liguori, S.A., Miniero, R., 2011. Thrombocytosis in children. Minerva Pediatrica, 63(6): 507-513.
DeBaun, M.R., Jordan, L.C., King, A.A., Schatz, J., Vichinsky, E., Fox, C.K., Murad, M.H., 2020. American Society of Hematology 2020 guidelines for sickle cell disease: prevention, diagnosis, and treatment of cerebrovascular disease in children and adults. Blood Advances, 4(8): 1554-1588.
Englot, D.J., Chang, E.F., Vecht, C.J., 2016. Epilepsy and brain tumors. Handbook of clinical neurology, 134: 267-285.
Gill, J.C., Shapiro, A., Valentino, L. A., Bernstein, J., Friedman, C., Nichols, W. L., Manco‐Johnson, M., 2011. von Willebrand factor/factor VIII concentrate (Humate‐P) for management of elective surgery in adults and children with von Willebrand disease. Haemophilia, 17(6): 895-905.
Giulioni, M., Marucci, G., Martinoni, M., Marliani, A.F., Toni, F., Bartiromo, F., Rubboli, G., 2014. Epilepsy associated tumors. World Journal of Clinical Cases, 2(11): 623-635.
Halimeh, S., Krümpel, A., Rott, H., Bogdanova, N., Budde, U., Manner, D., Nowak-Göttl, U., 2011. Long-term secondary prophylaxis in children, adolescents and young adults with von Willebrand disease. Thrombosis and Haemostasis, 105(04): 597-604.
Hastings, C.A., Torkildson, J.C., Agrawal, A.K. 2021. Handbook of Pediatric Hematology and Oncology: Children's Hospital and Research Center Oakland. John Wiley & Sons.
Iwafuchi, H., 2018. The histopathology of bone marrow failure in children. Journal of Clinical and Experimental Hematopathology, 58(2): 68-86.
Kedir, H., Tumin, D., Veneziano, G., Tobias, J.D., 2018. Acquired von Willebrand Disease in a Child With Wilms' Tumor: Implications for Postoperative Regional Anesthesia. Journal of Medical Cases, 9(10): 345-347.
Kulkarni, R., Soucie, J.M. 2011. Pediatric hemophilia: a review. In Seminars in thrombosis and hemostasis, 37(7): 737-744.
Low, L.C., 2005. Growth of children with β-thalassemia major. The Indian Journal of Pediatrics, 72, 159-164.
Madadi-Sanjani, O., Wirth, T.C., Kuebler, J.F., Petersen, C., Ure, B.M. 2019. Choledochal cyst and malignancy: a plea for lifelong follow-up. European Journal of Pediatric Surgery, 29(02): 143-149.
Mattiello, V., Schmugge, M., Hengartner, H., von der Weid, N., Renella, R., SPOG Pediatric Hematology Working Group. (2020). Diagnosis and management of iron deficiency in children with or without anemia: consensus recommendations of the SPOG Pediatric Hematology Working Group. European Journal of Pediatrics, 179: 527-545.
Michon, J., 2002. Incidence of anemia in pediatric cancer patients in Europe: results of a large, international survey. Medical and Pediatric Oncology: The Official Journal of SIOP—International Society of Pediatric Oncology (Societé Internationale d'Oncologie Pédiatrique, 39(4): 448-450.
Offit, K., Levran, O., Mullaney, B., Mah, K., Nafa, K., Batish, S.D., Auerbach, A.D., 2003. Shared genetic susceptibility to breast cancer, brain tumors, and Fanconi anemia. Journal of the National Cancer Institute, 95(20): 1548-1551.
Salomon, J.A., Vos, T., Hogan, D.R., Gagnon, M., Naghavi, M., Mokdad, A., Murray, C.J., 2012. Common values in assessing health outcomes from disease and injury: disability weights measurement study for the Global Burden of Disease Study 2010. The Lancet, 380(9859): 2129-2143.
Tlougan, B.E., Lee, M.T., Drolet, B.A., Frieden, I.J., Adams, D.M., Garzon, M.C., 2013. Medical management of tumors associated with Kasabach-Merritt phenomenon: an expert survey. Journal of Pediatric Hematology/Oncology, 35(8): 618-622.
Torrejon, N., Calvo, A., Pak, S., 2018. Iron Deficiency Anaemia Leading to Thrombocytopenia: A Case Report. International Journal of Research and Reports in Hematology, 1(2): 1-4.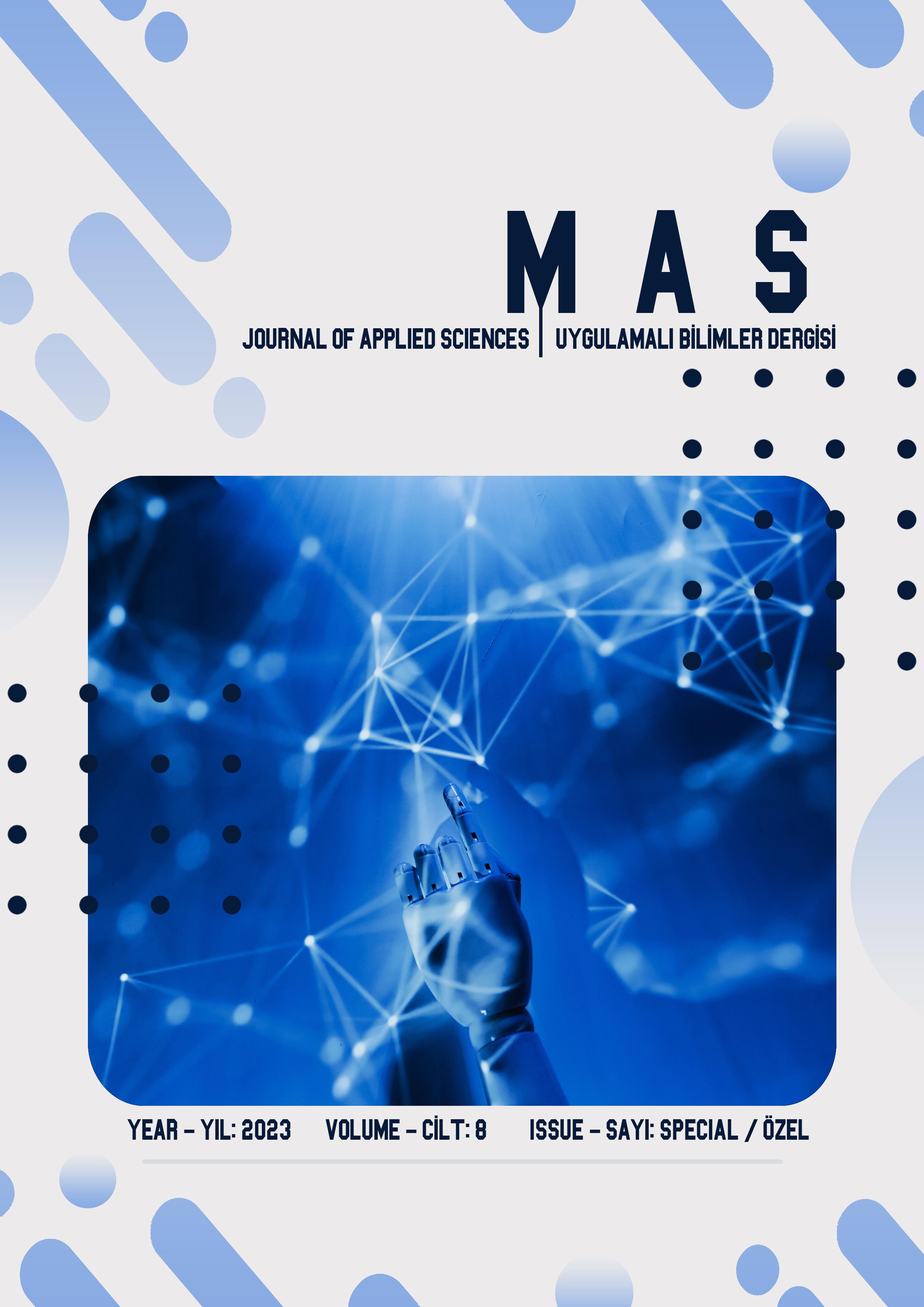 Downloads
How to Cite
ŞENOL, F. F. (2023). Pediatric Blood Disorders With Central Nervous System Complications. MAS Journal of Applied Sciences, 8(Özel Sayı), 854–865. https://doi.org/10.5281/zenodo.10001530
License
Copyright (c) 2023 MAS Journal of Applied Sciences
This work is licensed under a Creative Commons Attribution-NonCommercial 4.0 International License.