Effect of Urease Enzyme Immobilized to Particle Surface with Glyoxal Molecule on Storage Stability

Abstract views: 47 /

PDF downloads: 38
Keywords:
Urease, immobilization, nanoparticle, stability
Abstract
Immobilization is the immobilization of a biological catalyst in an analytical system. The synthesized complex has the catalytic feature of the free biochemical enzyme. Nowadays, it is tried to benefit from the advantages of immobilized enzymes instead of rapidly inactivated enzymes. Its advantages over free enzymes, such as reusability and ease of removal from the reaction medium, are developing day by day. In this study, it was planned to provide urease enzyme stabilization by using the advantages of nanoparticles (Çukurova University Project Unit, TYD-2015-3765). For this purpose, after the urease enzyme was bound to the produced nanoparticles and reshaped, the catalytic property of the enzyme activity was evaluated at different temperatures. Superparamagnetic nanoparticles (SPIONs) were synthesized. Surface modifications were provided by using glyoxal molecule and urease enzyme immobilization was performed for enzyme stability. The activity properties were investigated under the optimum temperature limits and under variable (25oC-4oC- 37oC) conditions. Statistically, it was determined that the study groups did not show a statistically significant difference between the control groups and groups. The results of the study showed that the immobilized enzyme improved the storage stability and shelf life (p>0.05).
References
Alptekin, Ö. 2019. Üreazın modifiye edilmiş florisile kovalent immobilizasyonu ve serbest ve immobilize üreazın karakterizasyonu. Cukurova Medical Journal, 44(3): 811-818.
Amani, A., Kalajahi, S.T., Yazdian, F., Mirzababaei, S., Rashedi, H., Faramarzi, M.A., Vahidi, M. 2022. Immobilization of urease enzyme on chitosan/polyvinyl alcohol electrospun nanofibers. Biotechnol Prog, 38(5): e3282.
Aykut, U., Temiz, H. 2006. Biyosensörler ve gıdalarda kullanımı. Gıda Teknolojileri Elektronik Dergisi, 3(51): 51-52.
Berhe, M. G., Gebreslassie, Y.T. 2023. Biomedical Applications of Biosynthesized Nickel Oxide Nanoparticles. International Journal of Nanomedicine, 18: 4229-4251.
Çınar, E., Ercan, S., Güleşçi, N. 2017. Lewatit partikülüne üreaz enziminin immobilizasyonu. Batman Üniversitesi Yaşam Bilimleri Dergisi, 7(2/2): 124-136.
Della-Flora, I.K., de Andrade, C.J. 2023. Biosynthesis of metallic nanoparticles by bacterial cell-free extract. Nanoscale.
Illeova, V., Polakovic, M., Stefuca, V., Acai, P., Juma, M. 2003. Experimental modelling of thermal inactivation of urease. Journal of Biotechnology, 105(3): 235-243.
Javanbakht, T., Laurent, S., Stanicki, D., Wilkinson, K.J. 2016. Relating the surface properties of superparamagnetic iron oxide nanoparticles (SPIONs) to their bactericidal effect towards a biofilm of Streptococcus mutans. PLoS One, 11(4): e0154445.
Kafarski, P., Talma, M. 2018. Recent advances in design of new urease inhibitors: A review. Journal of Advanced Research, 13: 101-112.
Mikelashvili, V., Kekutia, S., Markhulia, J., Saneblidze, L., Maisuradze, N., Kriechbaum, M., Almásy, L. 2023. Synthesis and Characterization of Citric Acid-Modified Iron Oxide Nanoparticles Prepared with Electrohydraulic Discharge Treatment. Materials, 16(2): 746.
Ozbek, O., Berkel, C., Isildak, O., Isildak, I. 2022. Potentiometric urea biosensors. Clin Chim Acta, 524: 154-163.
Pinheiro, P.C., Daniel-da-Silva, A.L., Tavares, D.S., Calatayud, M.P., Goya, G.F., Trindade, T. 2013. Fluorescent magnetic bioprobes by surface modification of magnetite nanoparticles. Materials, 6(8): 3213-3225.
Sahoo, Y., Goodarzi, A., Swihart, M.T., Ohulchanskyy, T.Y., Kaur, N., Furlani, E.P., Prasad, P. N. 2005. Aqueous ferrofluid of magnetite nanoparticles: fluorescence labeling and magnetophoretic control. The Journal of Physical Chemistry B, 109(9): 3879-3885.
Sepehri, S., Khedmati, M. 2023. An overview of the privileged synthetic heterocycles as urease enzyme inhibitors: Structure-activity relationship. Arch Pharm (Weinheim): e2300252.
Singh, S., Rai, N., Tiwari, H., Gupta, P., Verma, A., Kumar, R., Kailashiya, V., Salvi, P., Gautam, V. 2023. Recent Advancements in the Formulation of Nanomaterials-Based Nanozymes, Their Catalytic Activity, and Biomedical Applications. ACS Appl Bio Mater.
Tang, T., Fan, H., Ai, S., Han, R., Qiu, Y. 2011. Hemoglobin (Hb) immobilized on amino-modified magnetic nanoparticles for the catalytic removal of bisphenol A. Chemosphere, 83(3): 255-264.
Ulusal, F., Özdemir, N. 2023. İlaç Taşımaya Yönelik Yeni Mezogözenekli Fe3O4 Nanotüplerin Sentezi ve Karakterizasyonu. Osmaniye Korkut Ata Üniversitesi Fen Bilimleri Enstitüsü Dergisi, 6(2): 1353-1368.
Ulusal, H., Ulusal, F., Bozdayı, M.A., Güzel, B., Taysı, S., Tarakçıoğlu, M. 2022. Attachment of Idarubicin to Glutaraldehyde-coated Magnetic Nanoparticle and Investigation of its Effect in HL-60 Cell Line. International Journal of Chemistry and Technology, 6(2): 154-163.
Yasar, U., Ulusal, F., Yılgör Huri, P., Güzel, B., Dikmen, N. 2023. Development of biomaterial-based oxygen transportation vehicles for circulation within blood. Journal of King Saud University-Science, 35(5).
Yener, F. 2007. Pektinaz enziminin farklı iki destek üzerine immobilizasyonu ve karakterizasyonu. Yüksek Lisans Tezi, Çukurova Üniversitesi Fen Bilimleri Enstitüsü, Adana.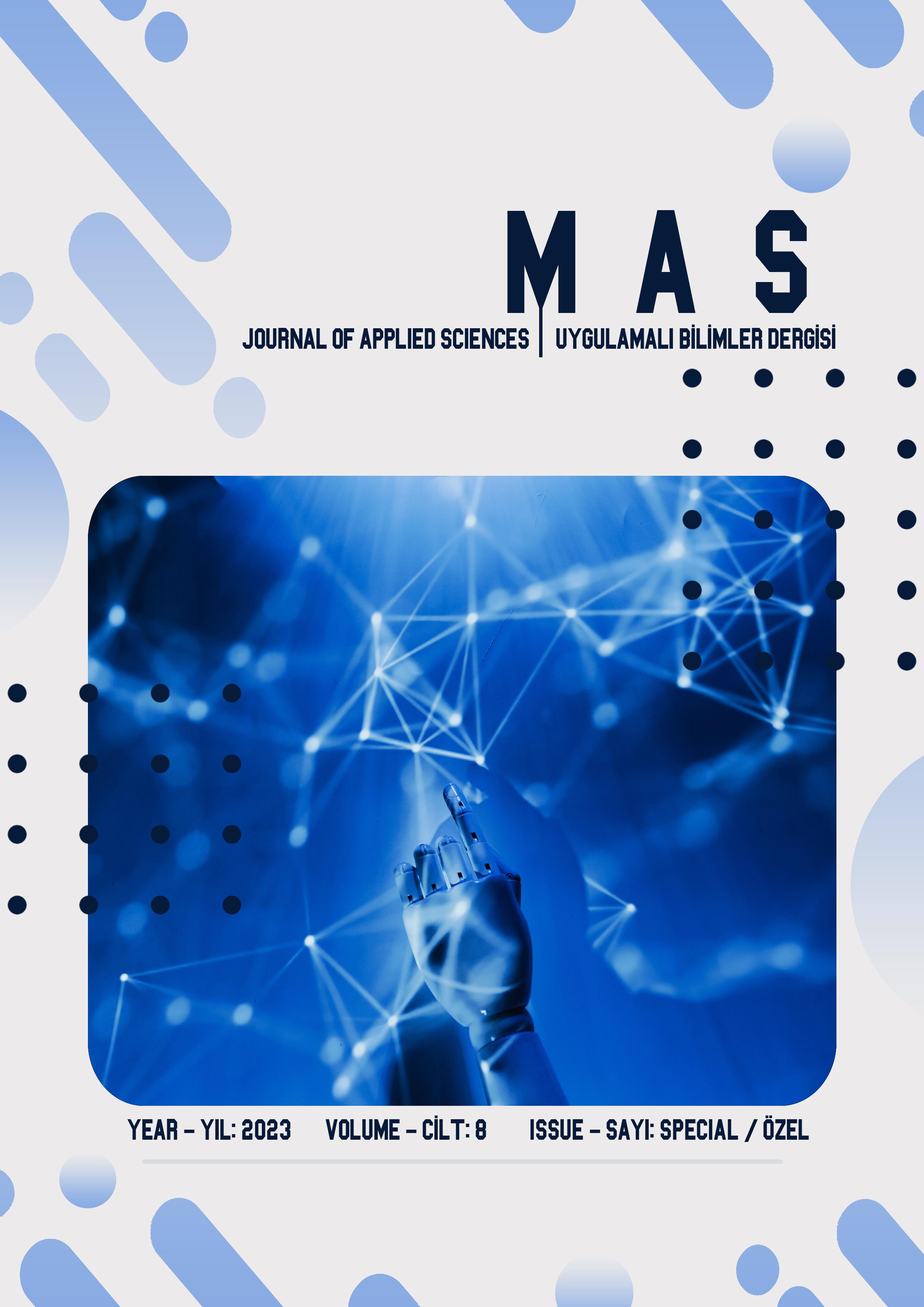 Downloads
How to Cite
YAŞAR, Ümit, ULUSAL, F., YILGÖR HURİ, P., GÜZEL, B., & DİKMEN, N. (2023). Effect of Urease Enzyme Immobilized to Particle Surface with Glyoxal Molecule on Storage Stability. MAS Journal of Applied Sciences, 8(Özel Sayı), 872–882. https://doi.org/10.5281/zenodo.10001636
License
Copyright (c) 2023 MAS Journal of Applied Sciences
This work is licensed under a Creative Commons Attribution-NonCommercial 4.0 International License.