The Effect of Iron and Zinc Applications on The Production and Quality Properties of Lentil Varieties

Abstract views: 71 /

PDF downloads: 36
Keywords:
Lentil, Fe, Zn, varieties, yield
Abstract
This research was carried out in Dicle University Faculty of Agriculture Field Crops experimental area in 2014. In the research, It was investigated effects of 0.33% FeSO4 and ZnSO4 applications from the leaves in Yerli Kırmızı, Tigris, Caucasian, Seyran 96, Özbek and Çiftçi lentil varieties.The experiment was set up in randomized blocks in the split plot design with three replications. Control group and micro element doses were placed on the main plots and varieties were placed on the sub plots. The solution doses:  control group (water), 0.30% ferrous sulfate (or 0.30% zinc sulphate) and 1.1 g m2 dose of urea. Applications were treated by spraying the leaves in the form of 0.00% and 0.30% solution, in the middle of flowering. In the experiment,  it was examined crop properties such as plant height, biological yield, seed yield and seed Fe and Zn contents  during flowering time. With the application of 0.30% iron sulfate and zinc sulfate from the leaves, six lentil varieties differed in terms of yield and seed micro element contents.
References
Dawood, R.A., Elfar. I.A. 1994. Response of organic and quality characteristics of lentil to foliar microelements. Assiut-Journal-Sciences, 25(3): 43-154.
Giordano, P.M., Morvedt, J.J., 1972. Agronomic effectiveness of micronutrients in macronutrient fertilizers. Micronutrients in Agriculture, 505-524.
İpekeşen, S., Biçer, B.T., 2021. Gübrelemenin nohutta bitkisel ve tarımsal özelliklere etkisi. ISPEC Journal of Agricultural Sciences, 5(2): 320-332.
Karabayır Tunay, Ş., 2020. Adıyaman-gölbaşı koşullarında bakteri aşılaması ve yapraktan çinko uygulamalarının mercimekte bitki gelişimi ve N2 fiksasyonuna etkisi. Doktora Tezi, Harran Üniversitesi Fen Bilimleri Enstitüsü, Şanlıurfa.
Khalil, N.A., Khalita, R., 1991. Response of lentil (Lens culinaris Medic.) growth and yield to marco and micronutrient Application. Bulletin of Faculty of Agriculture, University of Cairo, 42(3): 701-712.
Kumar, H., Kumar D. H., Singh, A., Jain, N., Kumari, J., Singh, M. A., Shingh, D., Sarker, A., Prabhu, V.K., 2014. Characterization of grain iron and zinc in lentil (Lens culinaris Medikus) and analysis of their genetic diversity using SSR markers. Australian Journal of Crop Science, 8(7): 1005-1012.
Marschner, H., 1995. Mineral nutrition of higher plants. 2. Ed., Acad. Press, Amsterdam.
Öktem, A.G., Coşkun, M., Almaca, N.D., Öktem, A., Söylemez, S., Tekgül, Y.T., Sürücü, A. 2016. Şanlıurfa-Ceylanpınar koşullarında yetiştirilen yerli kırmızı (Lens culinaris Medic.) mercimek çeşidine farklı miktarlarda uygulanan çinkonun verim ve verim unsurlarına etkisi. Tarla Bitkileri Merkez Araştırma Enstitüsü Dergisi, 25(1): 225-230.
Özbek, V., Özgümüş, Ö., 1997. Farklı çinko uygulamalarının değişik buğday çeşitlerinin verim ve bazı verim kriterleri üzerine etkileri. I. Ulusal Çinko Kongresi (Tarım, Gıda ve Sağlık) 12-16-Mayıs, Eskişehir.
Özer, M.S., Ülger, A.C., Alkan, A., Çakmak, İ., 1997. Harran Ovası koşullarında çinko gübrelemesinin değişik mısır genotiplerine etkileri ve çinko yetersizliğine dayanıklık genotiplerin seçimi. I. Ulusal Çinko Kongresi (Tarım, Gıda ve Sağlık) 12-16 Mayıs, Eskişehir.
Sadeghi, S.M., Noorhosseini S.A. 2014. Evaluation of foliar application effects of Zn and Fe on yield and its components of lentil (Lens culinarıs Medik), Iran. Indian Journal of Fundamental and Applied Life Sciences, 4 (2): 220-225.
Serry, A., Mawardi, A., Awad, S., Aziz, I. A., 1974. Effect of zinc and manganese on wheat production. 1. FAO/SIDA Seminar for Plant Scientists from Africa and Near East, FAO Rome, p: 404-409.
Singh A.K., Bhatt, B.P., 2013. Effect of foliar application of zinc on growth and seed yeild of late–sown lentil (Lens culinaris). The Indilan Journal of Agricultural Sciences, 83(6): 622–626.
Taban, S., Alpaslan, M., Günes, A., Aktas, M., Erdal, İ., Eyüpoğlu, H., Baran, İ., 1998. Değişik şekillerde uygulanan çinkonun buğday bitkisinde verim ve çinkonun biyolojik yarayışlılığı üzerine etkisi. 1. Ulusal Çinko Kongresi. 12-16 Mayıs, Eskişehir s: 147-156.
Thavarajah, D., Thaverejah, P., Sarker, A., Vandenberg, A., 2009. Lentils (Lens culinaris medikus subspecies culinaris): A whole food for ıncreased ıron and zinc ıntake. Journal of Agricultural Food Chemistry, 57(12): 5413-5419.
Togay, N., 2001. Van koşullarında farklı çinko dozlarının Mercimek (Lens culinaris Medik) çeşitlerinde verim ve verim öğelerine etkisi. Journal of Agricultural Sciences, 7(2):126-130.
Toğay, Y., Anlarsal, A.E., 2008. Farklı çinko ve fosfor dozlarının mercimek (Lens Culinaris Medic.)'de verim ve verim öğelerine etkisi. Yüzüncü Yıl Üniversitesi Tarım Bilimleri Dergisi, 18(1): 49-59.
Yağmur, M., ve Kaydan, D. 2005. Mercimek (Lens culinaris Medik.)'te yapraktan gübrelemenin tane verimi ile bazı verim özelliklerine etkisi. Yuzuncu Yıl University Journal of Agricultural Sciences, 15(1): 31-37.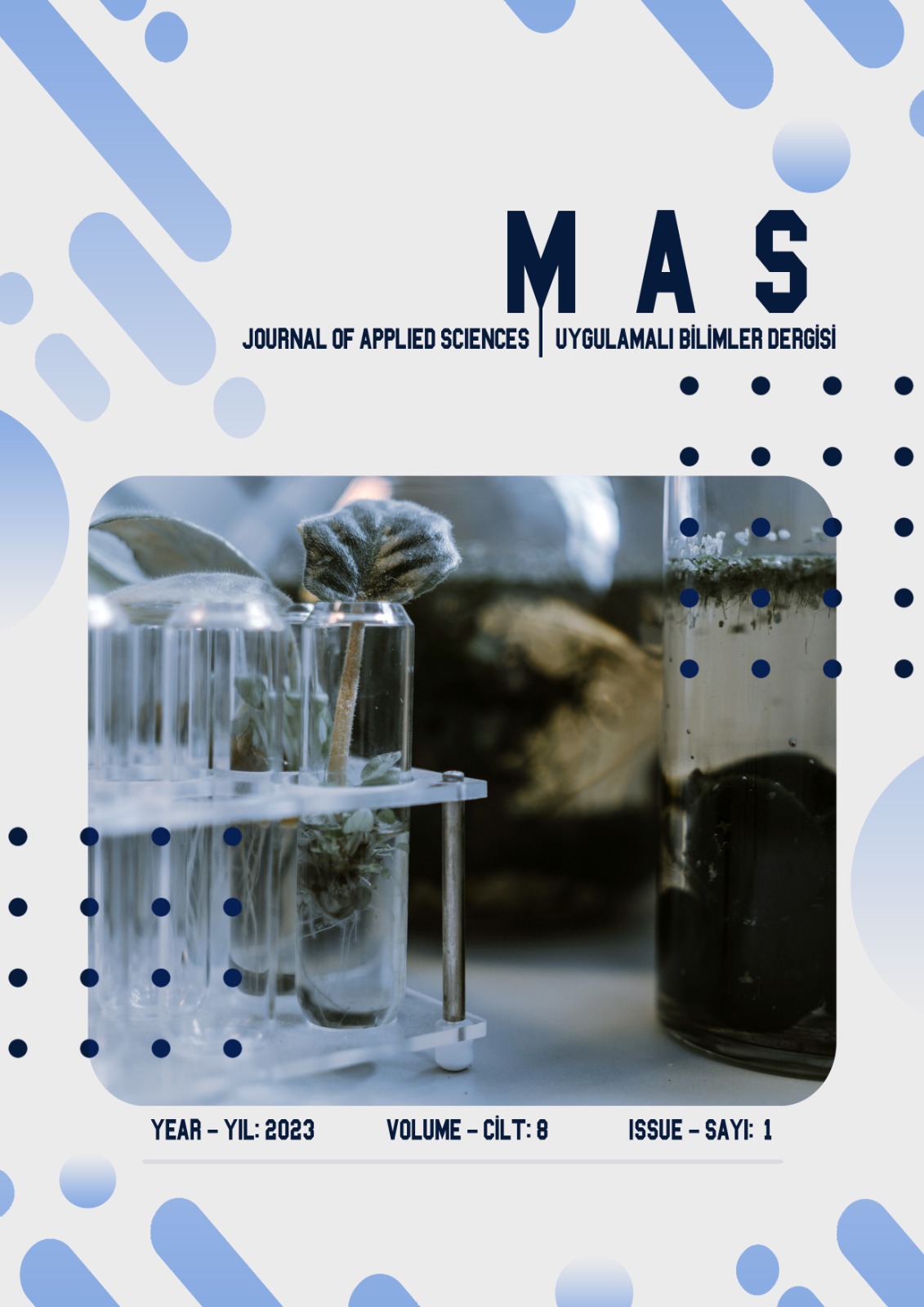 Downloads
How to Cite
KARACIL, B. (2023). The Effect of Iron and Zinc Applications on The Production and Quality Properties of Lentil Varieties. MAS Journal of Applied Sciences, 8(1), 56–65. https://doi.org/10.5281/zenodo.7652687
License
Copyright (c) 2023 MAS Journal of Applied Sciences
This work is licensed under a Creative Commons Attribution-NonCommercial 4.0 International License.