Wool Efficiency and Some Wool Properties in Akkaraman Sheep

Abstract views: 104 /

PDF downloads: 53
Keywords:
Akkaraman, live weight, wool yield, wool properties
Abstract
In this research, in 60 sheep of Akkaraman sheep herd raised in Ankara province, Haymana district, Sındıran District; The live weight and fleece yield of sheep at shearing and fleece samples were taken, wool yield and some fleece properties (efficiency (%), fiber diameter (fineness, µm), fiber length (length, mm), elasticity (%) and strength (cn tex-1)) were examined. In addition, the relationship between the live weight of the shepherd and the wool yield and wool characteristics were examined. The effect of sheep gender and age on fleece properties was also investigated. Assuming that there is no significant interaction among the factors whose effect will be examined, the Least Squares Method was used in the analysis of environmental factors. The significance test of the differences between the groups was done with the Duncan test.
References
Türkiye Evcil Hayvan Genetik Kaynakları, GTHB TAPGEM, Ankara Aralık-2009.
Tüfekçi, H., Olfaz, M., 2014, Yapağının alternatif kullanım alanları. Bahri Dağdaş Hayvancılık Araştırma Dergisi, (1-2): 15-28.
Sönmez, R., 1963, Yapağı, 25, Atatürk Üniversitesi Yayınları, No. 25, Erzurum, 98.
Dellal, G., Eliçin, A., Tuncel, E., Erdoğan, Z., Taşkın, T., Cengiz, F., Ertuğrul, M., Söylemezoğlu, F., Dağ, B., Özder, M., Pehlivan, E., Tuncer, S.S., Kor, A., Aytaç, M., Koyuncu, M., 2010, Türkiye'de hayvansal lif üretiminin durumu ve geleceği. Türkiye Ziraat Mühendisliği VII. Teknik Kongresi, Bildiriler Kitabı-2, 11-15 Ocak, TMMOB Ziraat Mühendisleri Odası, Ankara.
Ertuğrul, M., 2012, Küçükbaş hayvan yetiştirme, Ankara Üniversitesi, Web adresi: https://acikders.ankara.edu.tr/ pluginfile.php/110472/mod_resource/content/0/7.%20HAFTA.pdf [Erişim tarihi: 23.01.2021].
Harvey, W.R., 1987, User's guide for LSMLMW PC-1 version mixed model least-squares and maximum likelihood computer program. Ohio State University, Columbus, Mimeo.
Kara Uzun, H.Ş., 2008, "Türkiye yerli ve melez koyun ırklarının yapağı özellikleri ve yapağılarının sanayide kullanılabilirliği üzerine bir araştırma. Doktora tezi, Uludağ Üniversitesi Fen Bilimleri Enstitüsü, Bursa.
Kaymakçı, M., Taşkın, T., 2008. Türkiye koyunculuğunda melezleme çalışmaları. Hayvansal Üretim, 49(2): 43-51.
Kaymakçı, M., 2016, İleri koyun yetiştiriciliği. (Genişletilmiş baskı), Basım Matbaacılık Hizmetleri, Bornova/İzmir.
Özcan, H., 1970. İnanlı inekhanesi'nde kıvırcık koyunlarının beden yapısı, yavru ve yapağı verimleri ve önemli yapağı karakterleri üzerinde araştırmalar. Ankara Üniversitesi Veteriner Fakültesi Dergisi, 17: 4-67-483.
Düzgüneş, O., Kesici, T., Gürbüz, F., 1993. İstatistik metodları, (II. Baskı), Ankara Üniversitesi Ziraat Fakültesi Yay., Yay. No:1291, Ankara.
Sönmez, R., 1963. Yapağı, 25, Atatürk Üniversitesi Yayınları No.25, Erzurum, 98.
Şahan, Ü., Akgündüz, V., Koyuncu, M., Deligözoğlu, F., 1995, Etçi ırklar x merinos melezi F1 koyunların yapağı verim ve özellikleri. Lalahan Hayvancılık Araştırma. Enstitüsü Dergisi, 35(3-4): 92-109.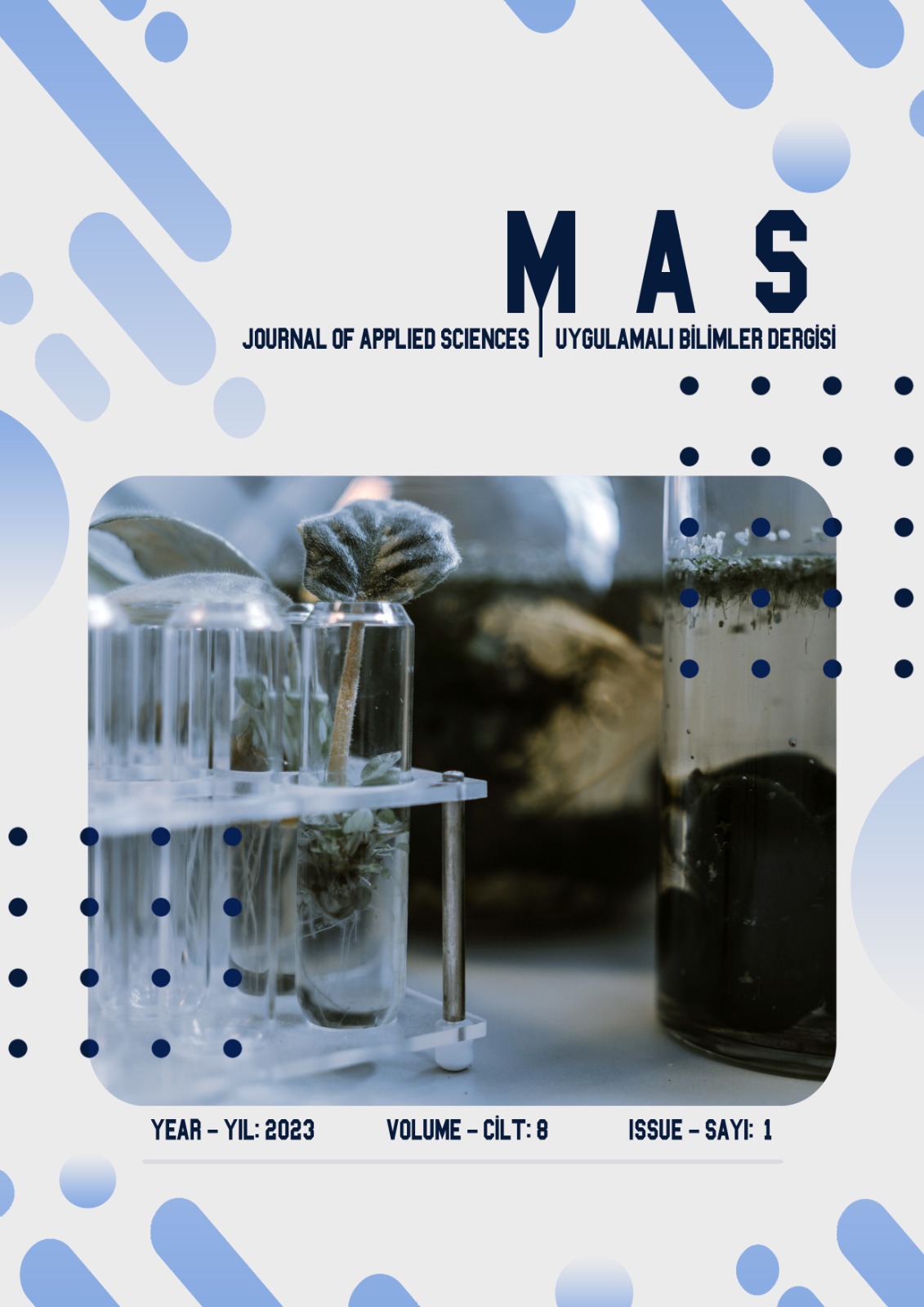 Downloads
How to Cite
KÜÇÜK, A. (2023). Wool Efficiency and Some Wool Properties in Akkaraman Sheep. MAS Journal of Applied Sciences, 8(1), 22–26. https://doi.org/10.5281/zenodo.7636963
License
Copyright (c) 2023 MAS Journal of Applied Sciences
This work is licensed under a Creative Commons Attribution-NonCommercial 4.0 International License.