Prevalence of Coenurus cerebralis in Sheep in Iğdır Region

Abstract views: 60 /

PDF downloads: 32
Keywords:
Coenurus cerebralis, Iğdır, Sheep
Abstract
Taenia multiceps (T. multiceps) settles in the small intestines of their final hosts (dog, fox, wolf, coyote, etc.). The larval form of the parasite shaped in the intermediate host is called Coenurus cerebralis (C. cerebralis) and is seen primarily in herbivores such as sheep, rarely goats, cattle, deer, pigs, camels, and horses. With this study, it was aimed to determine the prevalence of C. cerebralis in Iğdır province, since coenurosis was observed in the brains removed from the opened skulls of sheep slaughtered in the slaughterhouse. The study was carried out by visiting two private slaughterhouses in Iğdır once a week between January 1 and December 31, 2021. In the study; Sheep and lambs showing symptoms such as ataxia, incoordination, teeth grinding and spinning around with ante-mortem examination were included in the study. In the study, the prevalence of C. cerebralis in the Igdır region was 28.1% (474/1688), and the highest rate was observed in 8-12 months old lambs %46 (435/945). In addition, the prevalence of C. cerebralis was highest in October with a rate of 46.6% (73/160). As a result; In order to reduce the prevalence of C. cerebralis, which is a herd problem in the province of Iğdır, one of the regions where sheep breeding is intense; we think that dogs that have an active role in transmission should be treated with effective antiparasitic drugs and slaughtering should be done in slaughterhouses to prevent contamination.
References
Akkaya, H., Vuruşaner, C. 1998. İstanbul'da kesilen koyunlarda ve danalarda Coenurus cerebralis. Turkiye Parazitol Derg, 22: 320-324.
Antonios, S.N., Mina, S.N. 2000. A case report of human Coenurus cerebralis in Tanta, Egypt. J Egypt Soc Parasitol, 30: 959-960.
Avcıoglu, H., Yildirim, A., Duzlu, O., Inci, A., Terim, K.K., Balkaya, I. 2011. Prevalence and molecular characterization of bovine coenurosis from Eastern Anatolian region of Turkey. Veterinary parasitology, 176(1): 59-64.
Biçek, K., Karakuş, A., Değer, M.S. 2019. Van ilinde Coenurus cerebralis' in yaygınlığı ve Coenurosis' in teşhisinde yardımcı bir parametre olarak enolaz (NSE) enziminin önemi. Atatürk Üniversitesi Veteriner Bilimleri Dergisi, 14(2): 185-192.
Christodoulopoulos, G. 2007. Two rare clinical manifestations of coenurosis in sheep. Veterinary parasitology, 143(3-4): 368-370.
Gemmell, M.A., Lawson, J.R., Roberts, M.G. 1987. Population dynamics in echinococcosis and cysticercosis: evaluation of the biological parameters of Taenia hydatigena and T. ovis and comparison with those of Echinococcus granulosus. Parasitology, 94(1): 161-180.
Gıcık Y., Kara M., Arslan MÖ. 2007. Prevalence of coenurus cerebralis in sheep in Kars province, Turkey. Bull Vet Inst Pulawy, 51: 379-382.
Gökçe, E., Beytut, E., Taşcı, G.T., Uzlu, E., Kırmızıgül, A.H., Erdoğan, H.M. 2013. Bir Sığırcılık İşletmesinde Coenurosis Salgını. Kafkas Universitesi Veteriner Fakultesi Dergisi. 19 (Suppl-A): A199-A202.
Gökpinar, S., Yildiz, K. 2012. Klinik Bakımdan Sağlıklı Görünümlü Koyunlarda Coenurosisin Yaygınlığı. Kafkas Unv Vet Fak Derg, 18: A187-A191.
Gül, Y., İssi, M., Özer, S. 2007. Clinical and pathological observations of flock of sheep showing epileptoid spasm related to Oestrosis and Coenurosis. F Ü Sağlık Bil Derg, 21(4): 173-177.
Herbert, I. V., Edwards, G. T., Willis, J. M. 1984. Some host factors which influence the epidemiology of Taenia multiceps infections in sheep. Annals of Tropical Medicine & Parasitology, 78(3): 243-248.
Ozmen, O., Sahinduran, S., Haligur, M., Sezer, K. 2005. Clinicopathologic observations on Coenurus cerebralis in naturally infected sheep. Schweizer Archiv für Tierheilkunde, 147(3): 129-134.
Scala A, Varcasia A, 2006: Updates on morphobiology, epidemiology and molecular characterization of coenurosis in sheep. Parassitologia, 48: 61–63.
Sharma, D.K., Chauhan, P. P. S. 2006. Coenurosis status in Afro-Asian region: a review. Small ruminant research, 64(3): 197-202.
Tavassoli M., Malekifard F., Soleimanzadeh A., Tajik H., 2011. Prevalence of coenurus cerebralis in sheep in Northwest of Iran. Vet Res Forum, 2, 274-276
Uslu U., Güçlü F., 2007. Prevalence of coenurus cerebralis in sheep Turkey. Medycyna Wet, 63: 678-680.
Yılmaz, R., Özyıldız, Z., Yumuşak, N. 2014. Koyunlarda coenurus cerebralis'in patomorfolojik bulguları. Harran Üniversitesi Veteriner Fakültesi Dergisi, 3(2): 73-77.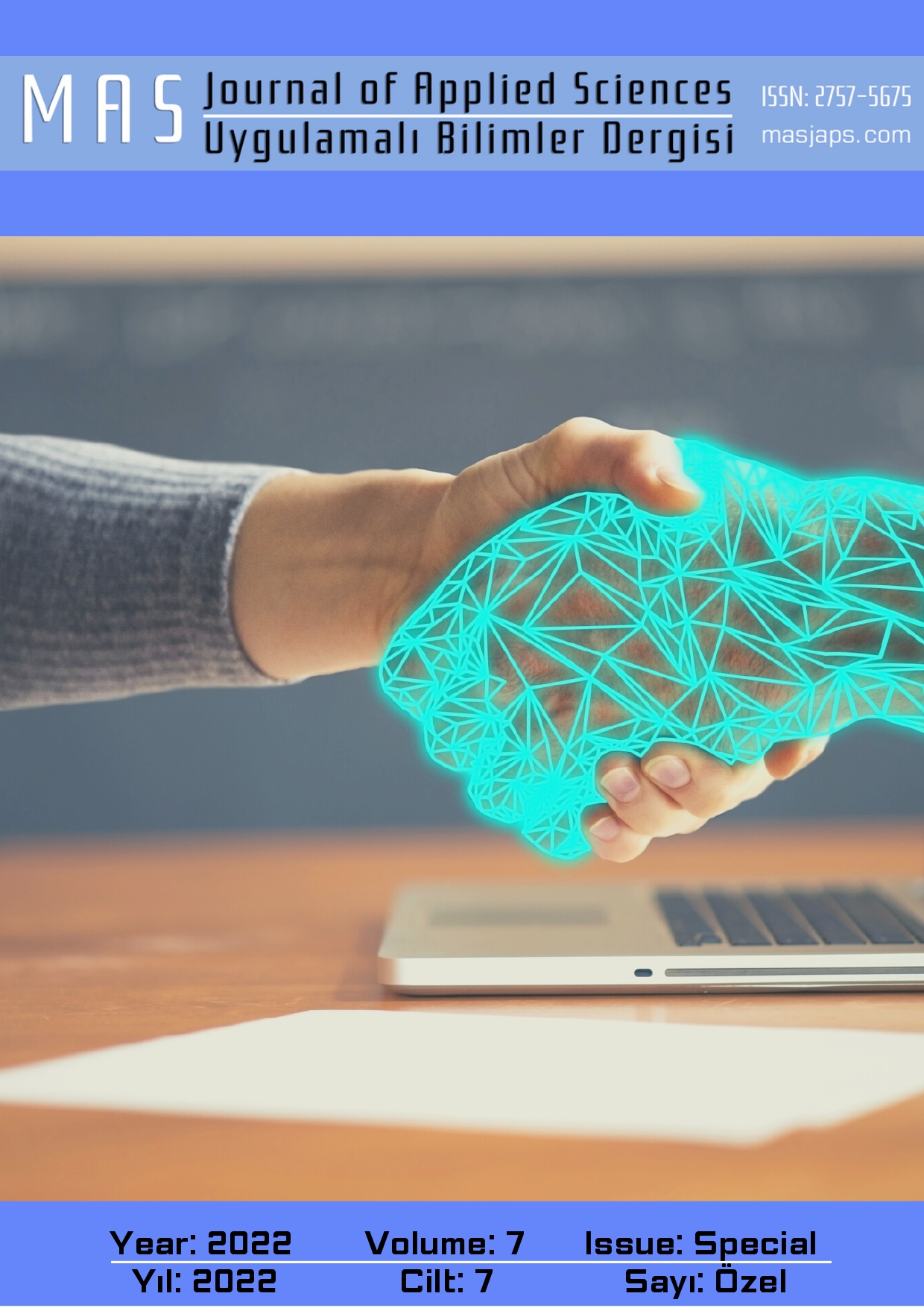 Downloads
How to Cite
KIZILTEPE, Şemiştan, & AYVAZOĞLU, C. (2022). Prevalence of Coenurus cerebralis in Sheep in Iğdır Region. MAS Journal of Applied Sciences, 7(Özel Sayı), 1287–1293. https://doi.org/10.5281/zenodo.7496298
License
Copyright (c) 2022 MAS Journal of Applied Sciences
This work is licensed under a Creative Commons Attribution-NonCommercial 4.0 International License.